DE
---
EN
Dom Museum Wien
Stephansplatz, 1010 Wien
Dom Museum Wien
Stephansplatz 6, 1010 Wien
Dom Museum Wien
Stephansplatz 6, 1010 Wien
Dom Museum Wien
Stephansplatz 6, 1010 Wien
Dom Museum Wien
Stephansplatz 6, 1010 Wien
Diese Webseite verwendet Cookies.
Nähere Informationen dazu und zur Verwendung Ihrer Daten finden Sie
hier
. Klicken Sie auf "OK", um den Einsatz von Cookies zu akzeptieren und unsere Webseite besuchen zu können.
OK
Online-Rundgang auf Englisch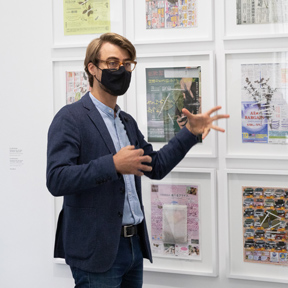 Dienstag, 16. März 2021 17:00 - 18:30
Online Zoom-Tour
Dom Museum Wien

This event is in English.
Participation is free of charge, registration is required.
The Zoom link will be e-mailed to registered participants approx. 2 days prior to the event.
"Nature is only visible through culture," the artist Lois Weinberger once said. Art is a part of culture and as such it makes nature visible in a variety of ways, often challenging ordinary ways of seeing. Artists do not just represent nature in their work, but they also construct it, providing new ways of seeing to viewers. Thus, they influence how we see nature outside of art.
In his tour, co-curator Klaus Speidel will analyze some of the instances of "worldmaking" as evidenced in the exhibition "Fragile Creation": How do the artworks convey a certain understanding of nature in different religious or non-religious contexts and at different times? How do artists reflect the cultural constructedness of nature? How do artists suggest certain ways of relating to our environment? And how does the creation of images of nature relate to the lives of different creators? These are some of the questions the curator will address in this online event.
This event was originally programmed as part of this year's FOTO WIEN festival.
* Klaus Speidel is an image and art theorist, academic philosopher, art critic and curator. He studied philosophy and art history in Munich (LMU) and Paris (Ecole normale supérieure, Sorbonne). In 2015, he received the AICA France Prize for Art Criticism. Beyond numerous academic publications on topics related to art, narrative, depiction, style, drawing and digital, Klaus Speidel writes about art and image theory for Spike Art Quarterly, artpress, Art Newspaper, Frankfurter Allgemeine Zeitung, Der Standard, Parnass, and in catalogues, for instance for Centre Pompidou, Schirn Kunsthalle, mumok, Belvedere or mudam Luxemburg. He curated exhibitions in Germany, Austria and France, was a guest on the Arte TV show "Philosophie" as an expert on the topic "Image" and a keynote speaker at different international events. After teaching assignments at the Sorbonne, Université Paris Diderot, as well as the Universities of Konstanz and Vienna and at numerous fine arts and design academies, he was the head of the FWF Lise Meitner Project "Towards an experimental narratology of the image" between 2015 and 2018 at the Lab for Cognitive Research in Art History (CReA), where he continues to be an associate researcher. He teaches art history at the Universities of Vienna, image theory at the Ecole Estienne in Paris, as well as art and curation at the University for Applied Arts in Vienna and consults different institutions on their communications.
Begrenzte Teilnehmer_innenzahl. Anmeldung erforderlich
Kosten:
Erwachsene: Kostenlos
Senden